Website design for mortgage brokers
QUICK LINKS
Unlock your potential with our world-class mortgage broker website designs, for brokers that want to take their business to the next level.
Experts in the industry
With years of experience creating hundreds of websites for mortgage brokers, we know exactly what works.
Fully managed service
Sit back while we handle everything from designing your website to ongoing maintenance, security and support.
Support for lead conversion
Gain access to analytics for tracking online prospects and leads, enabling you to optimise your sales funnel.
Optimised for mobile and tablet devices
At Mortgage Broker Website, we understand the importance of providing a seamless user experience across all devices including mobiles and tablets. Our team creates websites with a responsive design that can adapt to any screen size, platform, and orientation, paying close attention to each page as we design your website. This means that no matter who your customer is or what device they use, your website will always look great.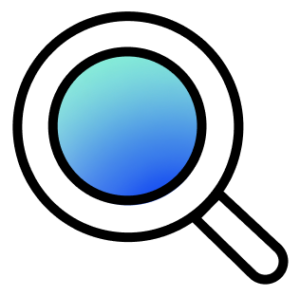 What's included with our website design service
Mobile + tablet ready
Seamless viewing across any desktop, mobile or tablet device.
Managed website hosting
Fully managed website hosting using secure cloud infrastructure.
Calculator tools
Useful and convenient tools including mortgage calculators and more.
Blog features
Establish credibility and engage your audience on an ongoing basis.
Security and encryption
Robust security, data encryption protocols and system monitoring.
Social media integration
Integrate and connect your social media for enhanced engagement.
Looking for help with a website
Supporting more than 500 mortgage brokers for over 17 years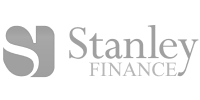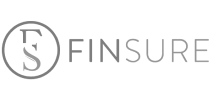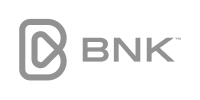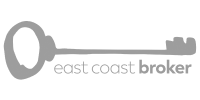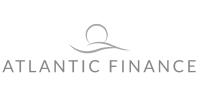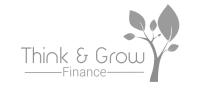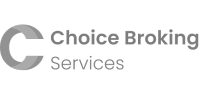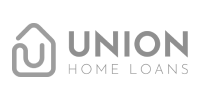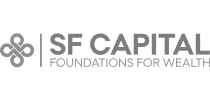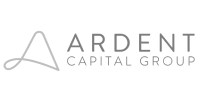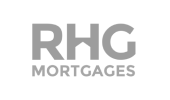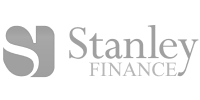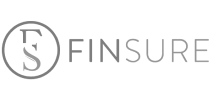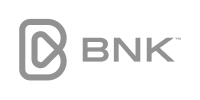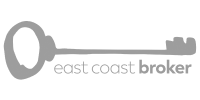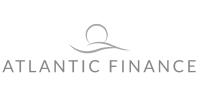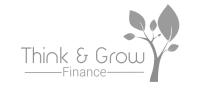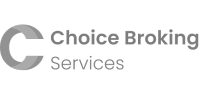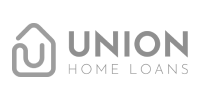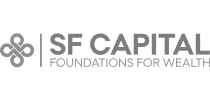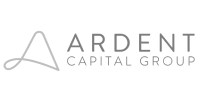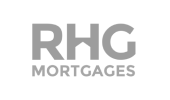 Backed by Google and Amazon
As Apple pioneered the shift to flat design in 2015, another tech giant – Google – is instigating the next modern design principle, from flat design to Material Design. By embracing Material Design, we align our website design philosophy with the current market leader in search, incorporating a unique style of design that optimises user experience and search engine ranking.
Behind the scenes we use Amazon Web Services (AWS) for robust and secure cloud infrastructure, enabling reliable website performance, seamless scalability, and advanced data protection. With the help of both these tech leaders, we empower every business to stay ahead where it matters most.
Additional website features
We've spent years refining a broker platform that brings great websites to life. Tested across the mortgage broking and finance industry, our features and functionality prioritise what we know works best. With advanced industry tools, our websites for mortgage brokers are designed to drive conversion rates and ultimately grow your business.
Home loan calculators
Working with FBAA & MFAA, we can implement colour-branded home loan calculators onto your website including loan repayment, borrowing power, stamp duty, budget planner calculators and more.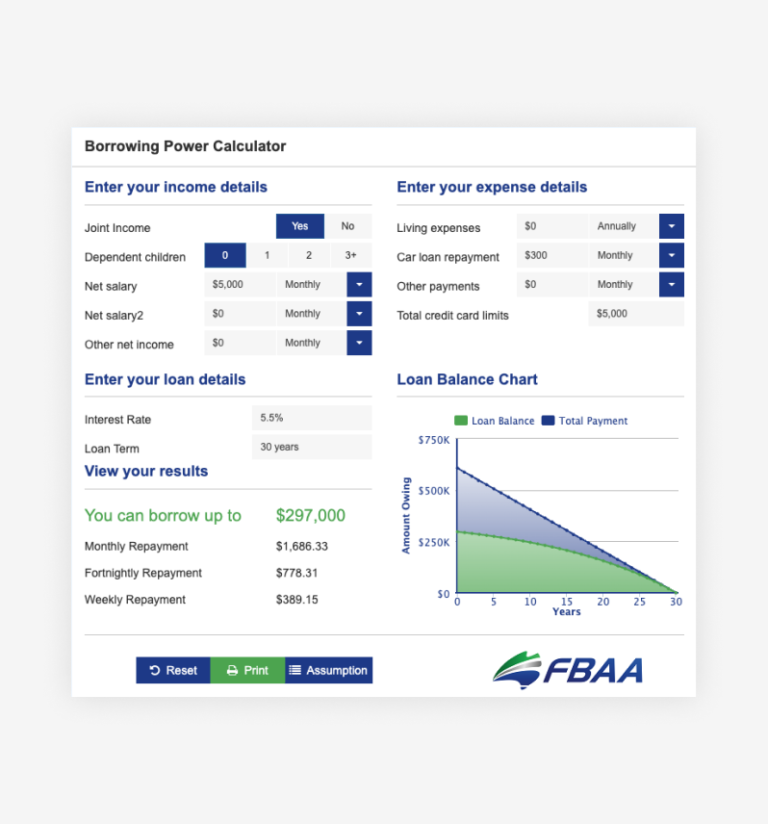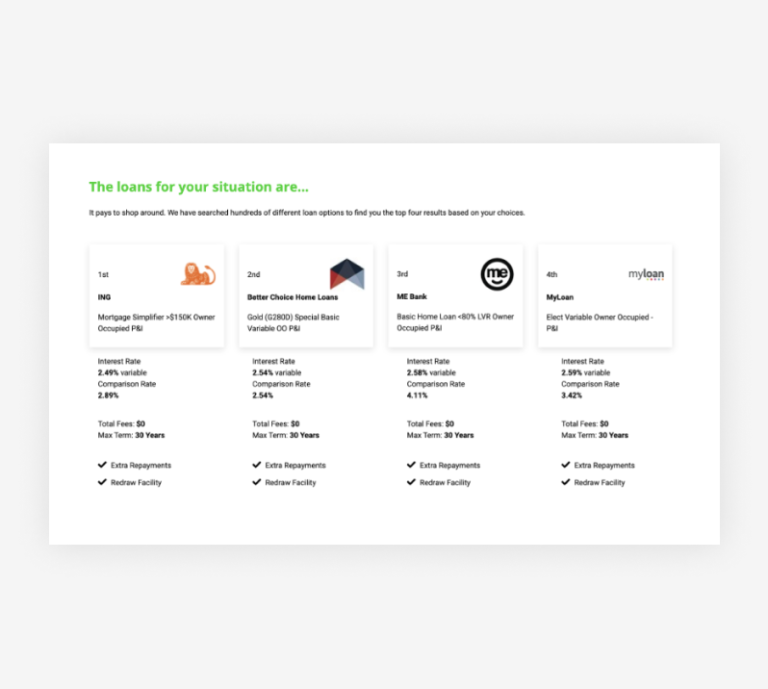 Home loan comparison features
Working with your mortgage aggregator, we can customise our system to integrate with your aggregator data so that any website visitor can enter their home loan details to compare hundreds of lenders and products.
Lead capture
Using dynamic forms with custom fields, we can capture leads at any point on your website across all key service pages. Each form also provides insights into the lead source so you know which pages are performing best and which ones need refining.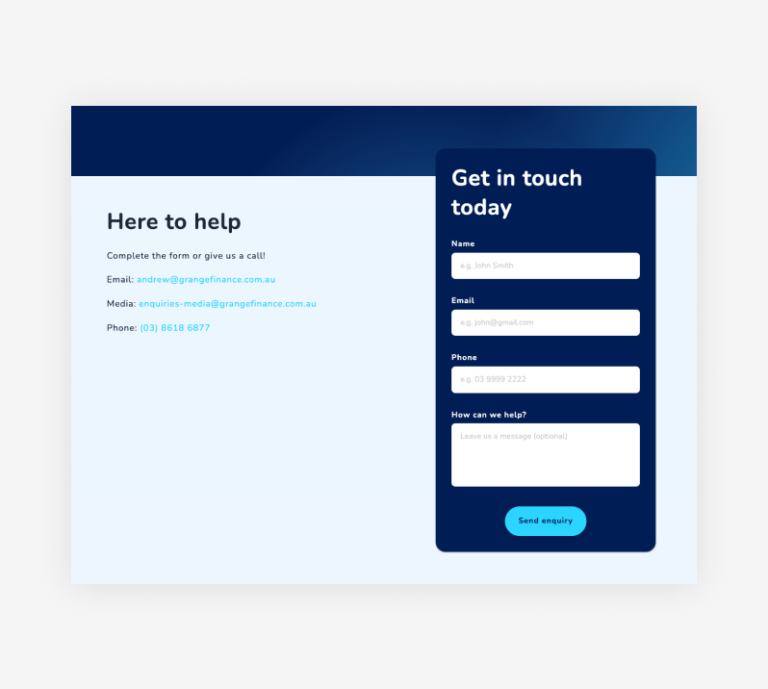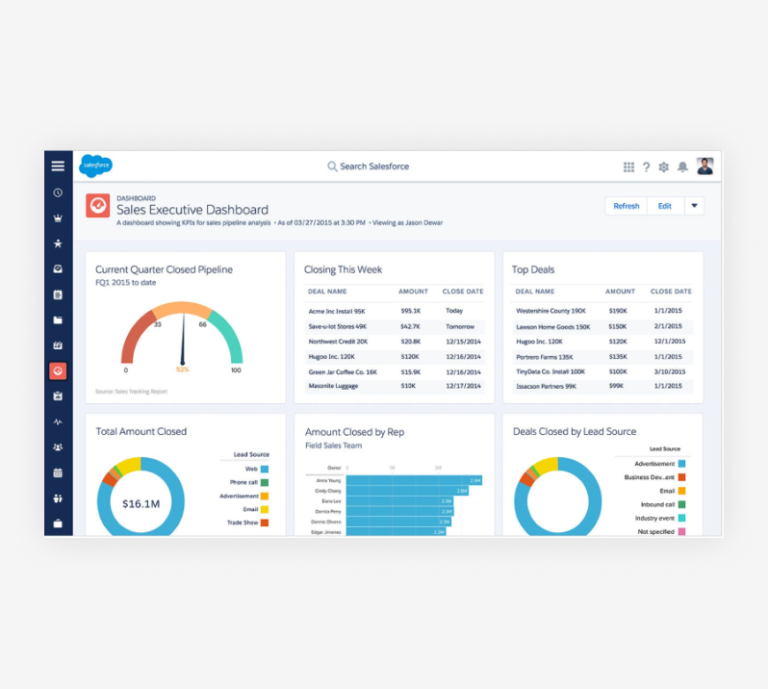 CRM integration
With experience using industry systems such as Mercury, Infynity, LoanKit, Saletrekker and SalesForce, we can integrate your website direct into a CRM so that you can develop your own automated marketing funnel and ensure that any website visitors that complete a form become new sales opportunities.
Blog content
Ensure your website is regularly updated through a digest of relevant news. Every week our industry-expert writers share relevant updates and industry news that can form the backbone of your content strategy.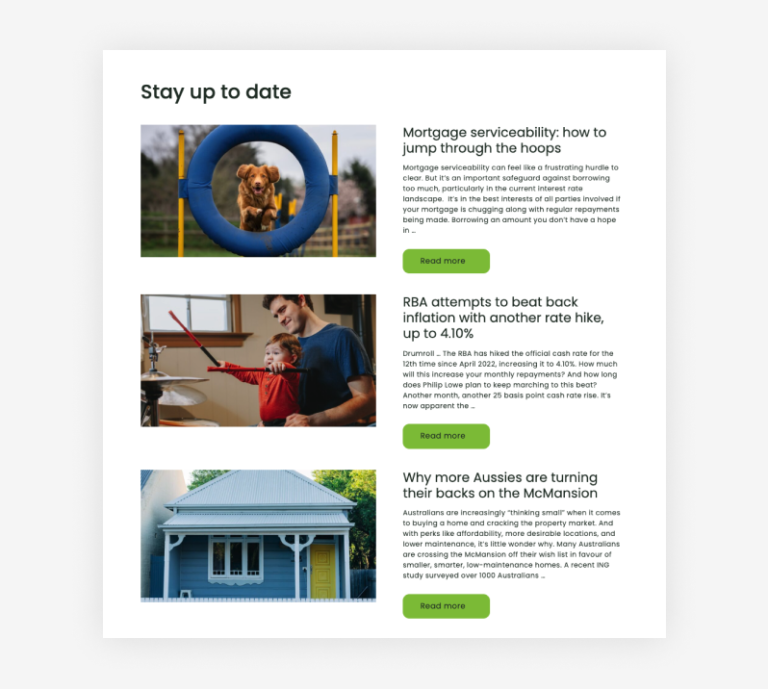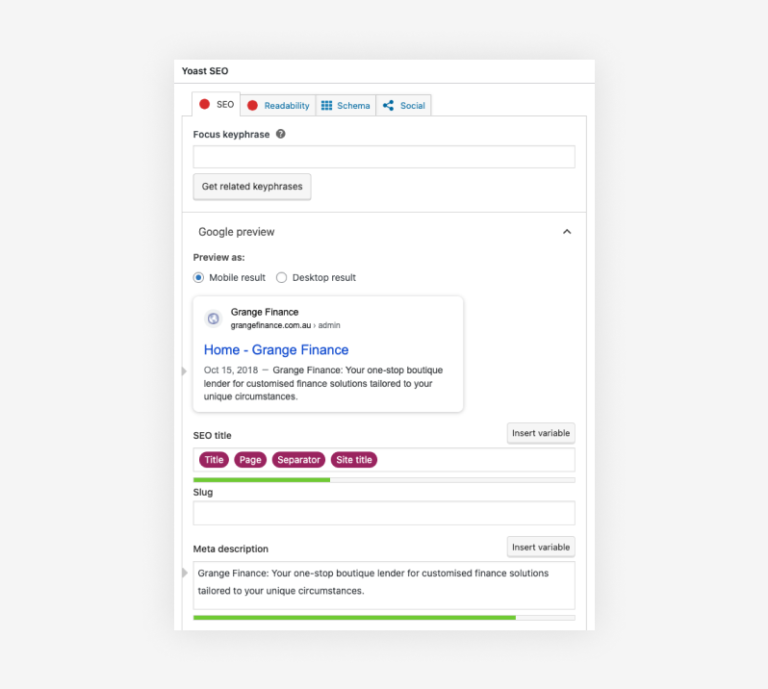 SEO tools
Increase your search engine ranking with SEO tools designed to give your business the means to grow. Not only are our designers and developers trained on SEO best practices, we can also support your website ranking through performant page speeds and a system feature that lets administrators edit meta titles and descriptions from the CMS.
Mortgage broker websites with 24/7 support
Our experience working for financial institutions and government has enabled us to develop processes for technical support across 24 hours a day, 7 days a week. Our standard support begins from the first day of going live and includes a warranty period for as long as you are a customer. Beyond this we also manage the entire mortgage broker website design and development process from start to finish so you never have to worry about a thing.
Looking for a low-cost mortgage broker website template instead?
If you are looking to save, try one of our mortgage broker website templates for a quick and easy way to get a mortgage broker website today.
Getting started with a mortgage broker website
In three simple steps we can get you up and running with a mortgage broker website. First, we'll walk you through the process for a custom website design, or alternatively we can help you select from a range of mortgage broker website design packages. Next, we'll need your logo and any other brand materials you may have. If you don't have anything, don't stress – the team are adept at working with whatever is available. We will then take all of this and start making your mortgage broker website.
Once the team has finished developing your website, the final step is the 'go live' phase. During this phase we may ask for login details to get your website online. Most of the time our clients prefer the MBW team to handle everything, but if you have a preference to do it yourself we can give you detailed instructions so nothing can go wrong.
Professional websites for mortgage brokers at an affordable price
It can be difficult to obtain a professional mortgage broker website at an affordable price. This is why at MBW we have streamlined our website design process specifically for the mortgage broking industry. When we create websites for mortgage brokers we understand the need to have a quality product, and as a result we offer websites to mortgage brokers that are fully managed for upmost convenience. As we refine our mortgage broking web design process we also translate these efficacies into greater affordability for our clientele, meaning more performant and secure broker websites at a fraction of the cost.
Generate new mortgage broker leads from your website
Successful mortgage brokers know that a constant flow of leads are key to increasing revenue, yet often there is an over reliance on offline lead generation processes and word-of-mouth. Implementing a digital strategy on the other hand, can help you generate mortgage broker leads from channels such as search engines and social media. These leads can complement any offline marketing efforts while creating a new stream of prospects so that your business becomes bullet proof at all times.
When you work with our team we will ensure you get the best mortgage broker website in Australia, and can also provide expertise to optimise your website for lead generation.
Why consider a new mortgage broker website design?
A well-designed mortgage broker website design is paramount in today's digital landscape. The online presence of your brokerage serves as the virtual front door to your business, and first impressions matter more than ever. A professional and well-structured website not only enhances your credibility, it also supports the mortgage broker marketing and lead generation process by attracting visitors, encouraging them to explore your services, and ultimately converting traffic into valuable leads.
With more and more Australians using the internet for research, staying ahead in the online market is crucial. Embracing a new mortgage broker website design ensures that your brand remains competitive, visually appealing, and aligned with the way customers are searching for home loan and brokerage support.
If you already have a mortgage broker website...
With more Australians expected to use mortgage brokers for their refinancing and property purchasing needs in the future, you should be assessing if your website is the best mortgage broker website it could be. This means making sure your website has the information and tools customers are looking for, as well as objectively assessing if your website performance could be improved.
If you have an existing mortgage broker website and are uncertain if it is working for you, we can help by conducting an audit of your website to determine how it is performing and whether it is the best mortgage broker website design it could be.
How much does a mortgage broker website design cost
We know how difficult it can be to determine the expected costs regarding any website design for mortgage brokers which is why we have streamlined our pricing for mortgage broker website designs to ensure transparency. We understand that each broker's requirements may be different, and our pricing model aims to allow for flexibility in selecting the features that align with your specific goals.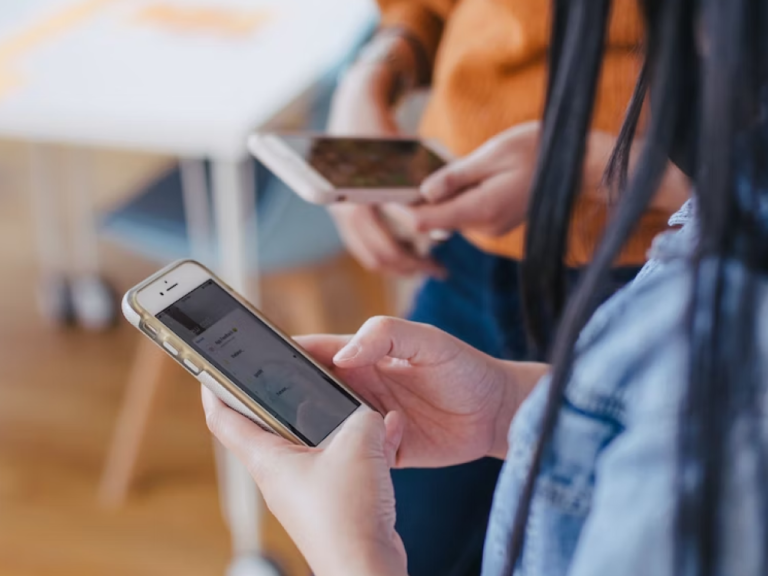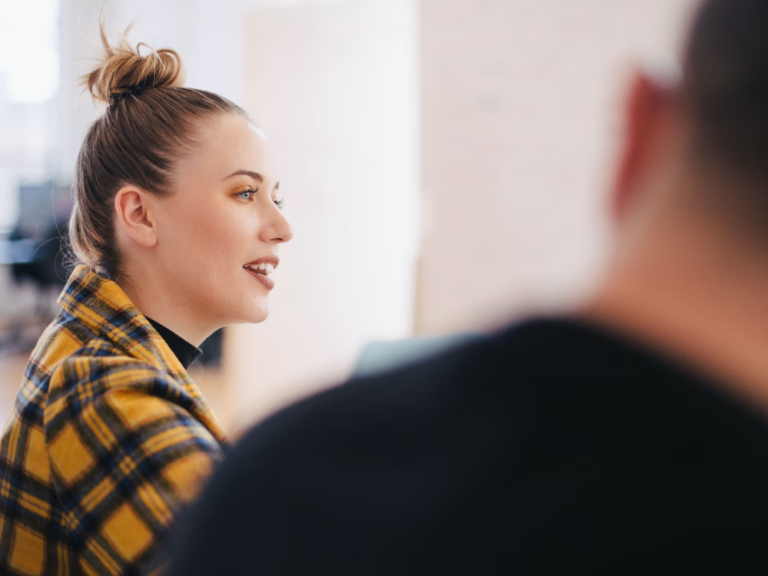 If you have an existing website, we can support you by conducting an audit of how much your current mortgage broker website is costing you. From there we can deduce the budget required to improve the website or begin creating a new one.
Some common expenses may include:
Monthly platform licensing fees
Additional content fees
3rd party fees for integrations
Website hosting and ongoing support
Get a free mortgage broker website assessment
Proudly creating some of the top mortgage broker websites across Australia
Working with MBW will give you the peace of mind that you are partnering with an organisation that knows how to make the top mortgage broker websites in Australia.
Beyond our proficiency in mortgage broker website design, our team's capabilities extend to encompass a range of mortgage broker marketing services. From refining brand design to curating content and driving lead generation, our expertise extends to every facet of the mortgage broking industry. We understand that some brokers need assistance with more than just their website, and complement our main service offering in designing mortgage broker websites with a holistic approach focused on enhancing overall digital presence.
Mortgage broker website design in Australia
Websites for mortgage brokers in Sydney
We service mortgage brokers across Sydney and the greater NSW area looking for custom websites designed by a local team. With our studio based in Surry Hills, Sydney we are able to provide customers with dedicated mortgage broker marketing plans and broker website services in order to create the top mortgage broker websites in Australia. Our team of designers and developers have almost two decades of experience in creating some of the best mortgage broker websites and we pride ourselves on operating with best practices and industry standards to ensure you get the website you deserve.
Websites for mortgage brokers in Melbourne
While our core team of website designers are based in Sydney, we also have a team of experts in Melbourne. This boutique team allows the company to support mortgage brokers who prefer to work with a local outfit while ensuring that the Melbourne team is still supported by our larger Sydney office. The team in Melbourne are able to meet to discuss any specific needs such as making your broker website, mortgage broker marketing ideas or any mortgage broker marketing strategies you may want to implement. We will ensure that your mortgage broker website design is up to the standards of the best mortgage broker websites in Melbourne.
Websites for mortgage brokers in Brisbane
Although our representatives are primarily baed in Sydney and Melbourne, we service mortgage brokers in all major cities of Australia including Brisbane. Should it be required, we are able to travel to Brisbane or other parts of Queensland to support our brokers. Alternatively, the team is adept at working remote through video conferencing tools and are well-equipped to handle requests from all over. If you are looking for a professional mortgage broker website that is custom built to your brand and mortgage broker digital marketing efforts, then get in touch today. Our team have already produced some of the top mortgage broker websites in Brisbane.